IPS e.max CAD is a high-strength lithium disilicate glass-ceramic (LS2) for the CAD/CAM technique directly in the dental office (chairside) or the laboratory (labside).
The IPS e.max CAD blocks for chairside processing are available in 16 A-D and four modern Bleach BL shades. They are available in two levels of translucency and two sizes. There are also an even more opaque blocks for the fabrication of frameworks (layering technique) in the laboratory.
The IPS e.max CAD blocks with high translucency (HT) are used for the milling of minimally-invasive, fully anatomical restorations, such as inlays, onlays, veneers. For partial crowns and crowns, the less translucent (LT) blocks are used.
The restorations are directly milled from the blue blocks. During a quick combined crystallization/glaze firing cycle, which supersedes polishing, the restorations acquire their high strength (360 MPa) and the desired esthetic properties (tooth shade, translucency, brightness). The restorations can be additionally individualized using the Stain materials.
Finally, the restorations are seated. As an alternative to being placed using the adhesive cementation technique, crowns may also be cemented self-adhesively or conventionally.
IPS e.max® CAD for CEREC® and inLab® LT / I 12 and C 14 Blocks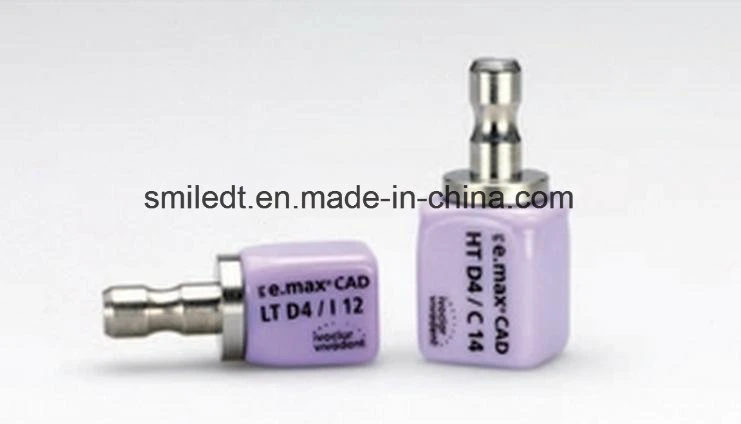 Why Smile Dental?

1. Professional
9 years special in Dentistry

2. Supply Range
From equipment to materials
Form disposables to consumables
For dental clinic and dental laboratory
We offer almost all kinds of dental products.

3. Quality
From world's top brands
And wise choices of Chinese manufacturers based on 9 years' experience
Full certifications as ISO, CE, FDA
We never forget our positioning.

4. Service
Long-term & stable warranty
OEM

5. Shipping
With 100+ countries' transportation experience
With 3000+ KG monthly shipment amount via express courier
With 360+ CBM yearly shipment amount by sea
With professional & skilled transport operations
We deliver a smooth shipping and logistics experience at competitive cost.

6. Price
Cost-effective product + service
Discount for bulky order

We stock leading brands as following:
3M-ESPE,GC,DENSPLY,EMS,NSK,,DMG,HERAEUS,ZHERMACK,Kerr,VACO,KODAK,SINOL,SEASHIN,VISODENT,GAPENT,WOODPECKER,SUNTEM,DENJOY,COXO,AIXIN,DYNAIR,RUNYES,GETIDY,YINYA,ORJ…