High translucent dental zirconia powder for dental blocks
Using the latest hydrolysis processes and nano-technologies,
Sinocean
produces the
dental grade
zirconia powders.
In the field of bioceramic materials, dental implant is one of the most widely applied dental restoration techniques, which can help to restore the normal shape and function of the teeth. It is mainly divided into two parts, namely implant and crown. Due to the good biocompatibility of zirconia ceramics, the morphology, color and luster of the natural teeth can be restored to the maximum degree. It has been widely used in the field of clinical dentistry.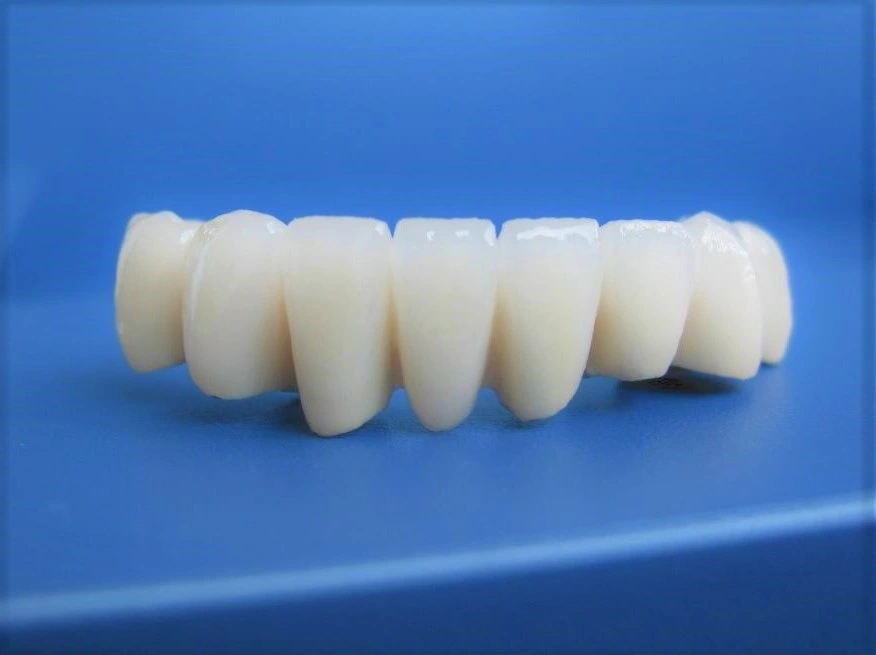 Powder Characteristics
Items

Specification

Testing results

Composition

ZrO2(HfO2)/Y2O3=97/3 mol%

ZrO2(HfO2)/Y2O3=94.48/35.22 wt%

HfO2

<

5%

2.47%

Al2O3

<

0.5%

0.25%

SiO2

<

100 ppm

14.21 ppm

Fe2 O3

<

100 ppm

27.6 ppm

Na2O

<

50 ppm

24.3 ppm

Cl

<

100 ppm

45.7 ppm

Specific Surface Area

10-14 m2/g

12.48 m2/g

Original Particle Size

30-50 nm

42 nm

Ignition loss

<

0.5%

0.32%(1100 C/3h)

Light transmittance

>

43%(1mm thickness)

43.7%

Apparent Density

>

1 g/cm3

1.23 g/cm3
Properties of Sintered Body
Sintered Density

>

6.0 g/cm3

6.05 g/cm3 (1480 C/3h)

Toughness

>

6.0 Mpa. m1/2

7.3 Mpa. m1/2

Bending Strength

>

1100 Mpa

1150 Mpa

Shrinkage

1.23-1.24

1.238 (1480 C/3h)